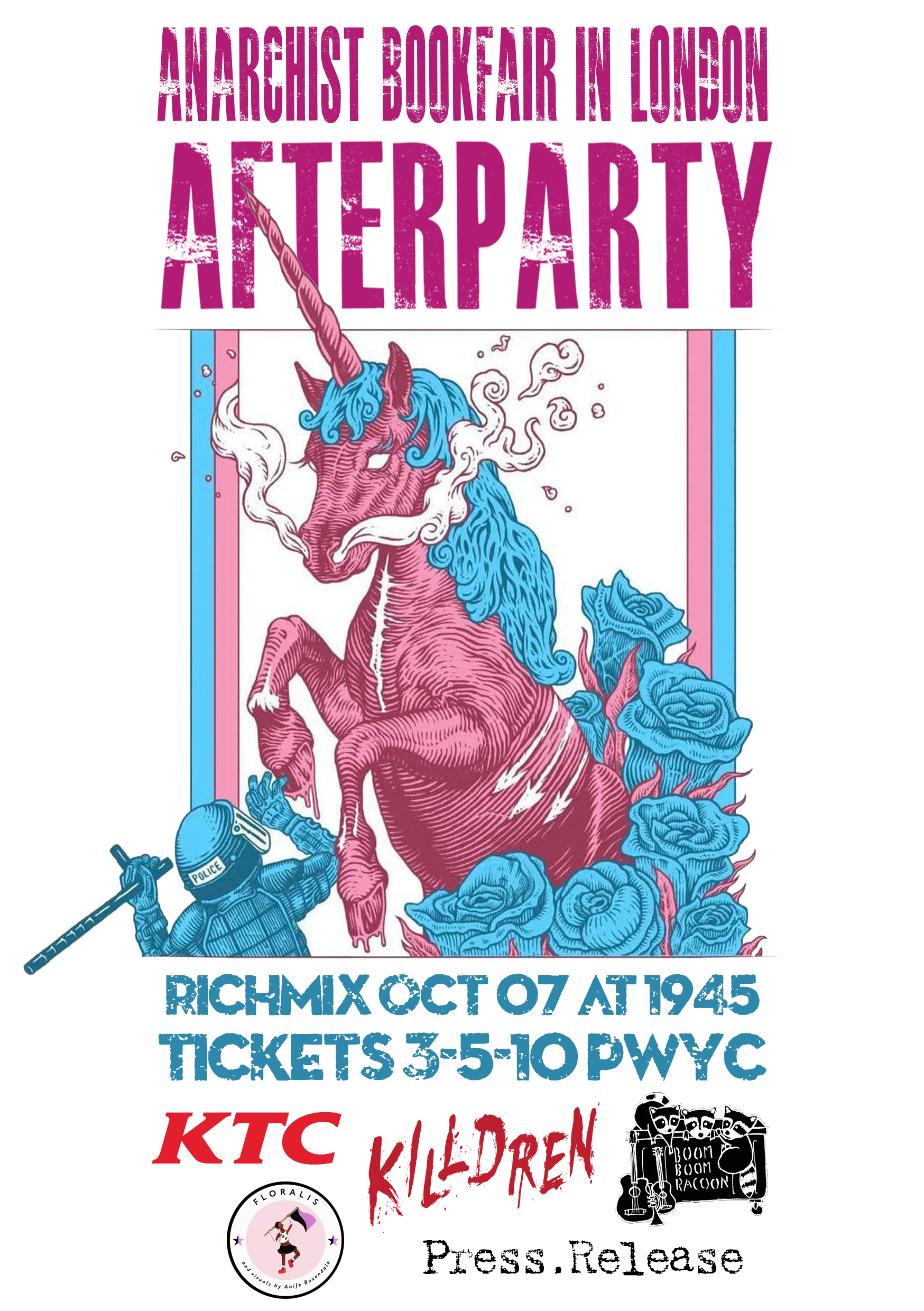 Join us after the bookfair a wild night of music featuring some kick arse acts.
All proceeds will go back to the bands and supporting other bookfairs

Doors: 7:45pm
Tickets: £3/£5/£10 Pay What You Can

Boom Boom Raccoon:
A scrappy, accoustic DIY ska punk band from Bristol, UK.

Floralis & Aoife Baxendale:
Floralis is a queer-anarchist avant pop artist. Fusing Kate Bush inspired art pop with elements of gothic rock and hip hop to deliver her anti-capitalist message. Her debut album deals with being a trans POC in a colonial world. She will be accompanied by psychedelic, dreamy, live generated visuals by Aoife Baxendale.

Press.Release:
A trans 3 piece based in London with post punk, shoe gazey, grunge sounds. They are made up of guitarist Charlie (Piglet lead singer, Leather.Head guitarist + vocals), bassist Nadz (sadqueersclub DJ + producer, Screaming Toenail guitarist, Brown Belt guitarist + drummer) and lead singer and drummer Liv Wynter (solo artist, Queer House Party host) They are the resident house band at sell out night How To Catch A Pig, and played 100 club in Feb 2023, as well as playing countless venues across LDN. They are recording their first single in April.

Killdren:
Killdren are a two-bit rave punk band combining the underground sounds of punk and rave, who in September released their a new album 'The Illuminaughty'. Sounds like: if the Prodigy were political, Atari Teenage Riot were less up their own arse, Chumbawumba after more Es or some lovechild of Sleaford Mods, Dead Kennedys and Monster Zoku Onsomb? Seriously though, we're not sure. We're angry little bastards who find enough positivity and passion to make feisty rave-punk tunes that can rock a rig, make you belly laugh and maybe even give your grey matter something to chew on.

KTC:
Turning up the heat on the dancefloor with heavy beats from across the techno spectrum.